Influence Central received samples from the Activewear Collection to facilitate our review. All opinions are our own.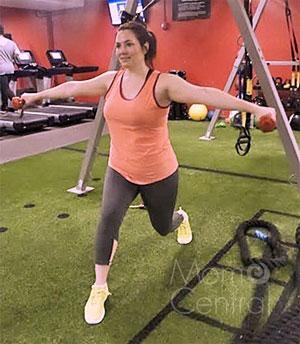 This time of year, many of us are hitting the gym more than ever. I enjoy working out – it makes me feel healthy, stronger and it's a big stress reliever after a hectic day. From spin classes to yoga to cardio machines, I try to vary my workouts to keep the fitness regimen fresh, and cut down on any potential gym fatigue.
Much like the workouts themselves, I prefer to keep my gym attire fresh as well. I hate throwing on the same tank top or tee shirt, and since I try to go about four times a week, I certainly don't want to run out of choices before I've had the chance to do my laundry.
I was excited to try out some of the new pieces from the Lands' End Activewear Collection to enhance my workout wardrobe. These pieces are timeless and made of truly quality material that moves with you and feels as strong as your workout! Some pieces I've tried on from other brands feel flimsy and too thin – the quality of the fabric proves that these garments will be long-lasting, and the cut and designs are totally on trend for 2015.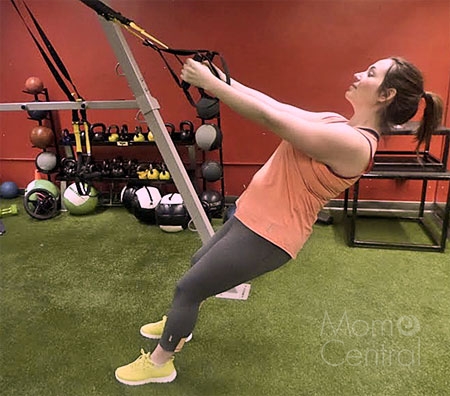 I love this Women's Activewear Tank Top in Fresh Melon. This machine-washable top is a great length that keeps you covered in the mid-section, so no need to worry about exposing more than you planned when doing squats! The feminine scoop neckline is a beautiful touch and practical. too! Often times many workout tanks are cut so low that I feel self-conscious wearing them in yoga class, but this top keeps you covered!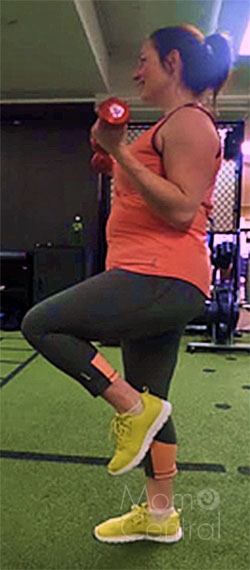 The top is designed to pair perfectly with these Control Crop Leggings, available in Heather with Fresh Melon accents at the waist and back of the calves. The fabric offers great compression, and gives the right amount of stretch for ease of movement when running or doing intense cardio or weight-lifting workouts. I LOVE everything about these pants! The length is perfect for the winter, too, as many of my more compressed workout pants already in my closet are cropped shorter – making it necessary to change from high warm boots to sneakers once I hit the gym so that my calves don't freeze!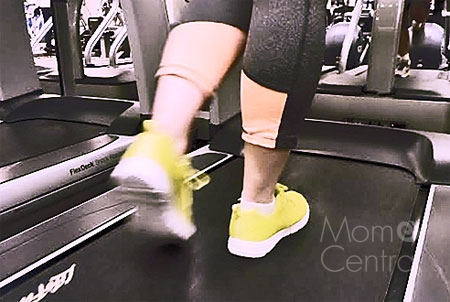 I've always been a fan of the look of bright sneakers, and flipped for these Active Sneakers in Bright Chartreuse. The shoes are incredibly light. If you pack them in your gym bag, you may have to double-check they are in there because they are not weighing you down! The mesh upper is very comfortable on the foot, which is great since sneakers that can be too confining can aggravate my toes during an intense workout. The material breathes, dries fast, and the rubber outsole grips the hard surfaces perfectly. I love wearing these shoes to body conditioning and cardio classes.
This is an outfit that I could wear to the gym and to brunch afterwards, while ordering healthy options, of course!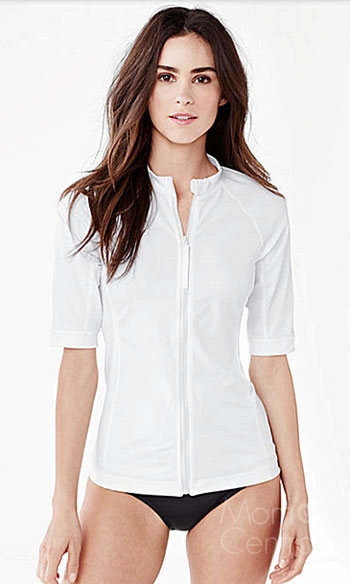 When it's time to hit the pool or take our workouts to the beach this summer, we are excited to use this new Aquasport Rash Guard from Lands' End. The AquaSport collection pieces are designed to be worn over a swim top, to provide extra coverage from the sun and can be a great piece to have for a run along the beach! The fabric is very soft and stretchy with a collar that won't rub against the neckline. Be sure to check out the AquaSport collection on the Lands' End website or catalog to view a great selection of swim shorts, one pieces, pants and other separates that are designed for the active swimmer. These pieces are great to have to wear home from a day on the beach or pool, too!
For more information on these fashionable workout options, visit landsend.com.